Dear Member // Welcome to this latest edition of The Juice – our regular way of staying in touch with you, our Members. We want to share some of the things we've been up to and let you know what will be coming up.
Message from the CEO.
Looking forward to a great year ahead.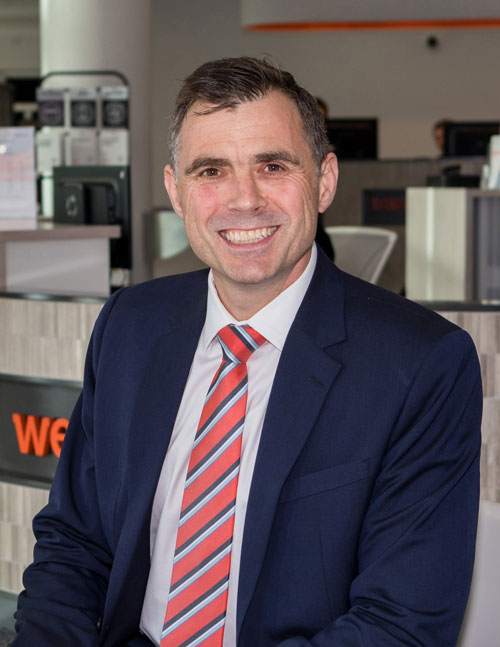 It's hard to believe that we're at the end of March already, the past couple of months seem to have flown by. It has been an unsettling couple of months as we have moved through the Covid-19 alert levels but like many of you, we have been learning to adapt to what seems to be the current normal.
In the last edition of The Juice, we provided an update on the SBS Pink Ribbon Visa through our partnership with Breast Cancer Foundation NZ. We have now seen the donations from these cards flow through to Breast Cancer Foundation NZ and start to make a difference to the important research and support work they carry out.
We were also delighted to be awarded 5 Stars for 'Outstanding Value' by Canstar for our SBS Visa Credit Card** for the second year running, providing you with an award-winning credit card from your award-winning bank.
In 2021 we are excited to be supporting some special partnerships within our communities including Breast Cancer Foundation NZ's Pink Ribbon Walks, Ronald McDonald House South Island, the Graeme Dingle Foundation, and The Southland Loss and Grief Centre.
We have tried to align our support to our sustainability objectives of being a good bank, homes and well-being.
Once again, I'd like to thank our SBS team for putting their hearts into providing you, our Members, with the very best service and award-winning products.
I would also like to take the opportunity to invite you to contact me directly if there is any feedback or issues that you would like to have looked into. This can be done by contacting me at ceo@sbsbank.co.nz. One of the special things about SBS is that we are "not too big to care".
Shaun Drylie
SBS Bank Group CEO
Introducing the SBS Visa Credit Cards
Two rewarding Credit Cards to choose from.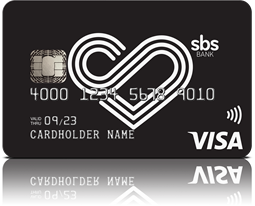 SBS Visa Credit Card.*
Our Award-Winning Credit Card.**
We're celebrating...the SBS Visa Credit Card has been awarded 5 Stars for 'Outstanding Value' by Canstar for the second consecutive year!
Whatever the occasion, wherever you want to shop, the SBS Visa Credit Card aims to make life even easier for you. Shop in-store or online, anywhere that Visa is accepted to earn cash back. It's as simple as that.
You'll earn $1 for every $150 spent on Eligible Transactions+ while enjoying the benefits of no annual card fee and 24/7 access to your account.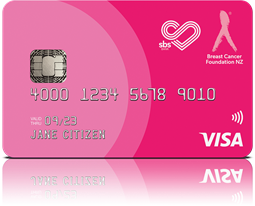 SBS Pink Ribbon Visa.***
Our Official Charity Credit Card.
SBS is excited to offer the all new SBS Pink Ribbon Visa in support of Breast Cancer Foundation NZ. This credit card is specially designed to raise funds to fight Breast Cancer, with SBS donating $20 to Breast Cancer Foundation NZ for every account successfully opened, and a further 5 cent donation by SBS every time the credit card is used.
You will also earn Cash Back Rewards every time you use your card on Eligible Transactions+, which you can choose to keep or donate a portion of (or all of it!) to Breast Cancer Foundation NZ. Together, we can make a difference.
*Lending and eligibility criteria, SBS Visa Credit Card Conditions of Use and Fees and Charges apply.
**Canstar 5 Star rating for 'Outstanding Value' in the Credit Card rewards 12k annual spend category.
***Lending and eligibility criteria, SBS Pink Ribbon Visa Conditions of Use and Fees and Charges apply. $55 Annual fee and $55 Establishment fee applies per Account. The Pink Ribbon Symbol is a trademark of BCFNZ.
+See SBS Visa Credit Card Conditions of Use or SBS Pink Ribbon Visa Conditions for Eligible Transactions. Credit Card Conditions of Use along with Fees and Charges are available at sbsbank.co.nz/credit-card or on request and free of charge from your local SBS Branch.

SBS Bank Partnerships.
Supporting amazing Kiwis doing amazing things.
Pictured: Caroline Loo, Centre Director for the Southland Loss and Grief Centre, with SBS Bank CEO Shaun Drylie.
As a New Zealand owned bank, we are extremely proud to support a wide range of groups and clubs in our local communities. Our new sponsorships will commence with the new financial year (1 April 2021).

Some of the major partnerships we can confirm for 2021 include:
Ronald McDonald House South Island
Chatbus South
The Highlanders
Volunteer South
If you have a group that is interested in applying for sponsorship, applications will reopen in December for the 22-23 Financial year (commencing 1 April 2022). For more details check out the Partnerships page on our website.

Digital Focus Week.
SBS Digital Gurus helping Members get online.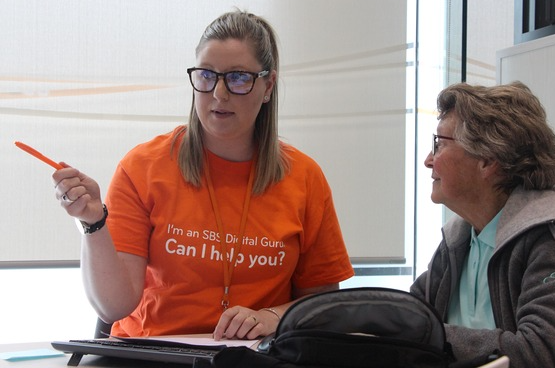 Pictured: SBS Team Member Laura Solomon-Bedet helping a Member during the first SBS Bank Digital Focus Week.
Last month we held our second 'Digital Focus Week', where SBS Bank Digital Gurus sat down to help Members learn all about how to Bank online. The sessions proved very popular with Members, who enjoyed having the chance to upskill and ask any questions they had about online banking.
Online Banking is an important skill for all Members to have, as it allows you to continue to do your banking and make important payments 24 hours per day, whether it is a weekend, a public holiday, or during lockdown.
If you would like to learn more about SBS Online Banking, we have a range of tools and how-to guides available on our website. Click here to find out more.
Removal of Cheque Services.
We're here to support you.
In recent years there has been a steady decline in the use of cheques throughout New Zealand with many government organisations and larger banks having already announced their plans to stop issuing and receiving cheques.

Our SBS Bank cheques will no longer be accepted as a means of payment at these other banks so we've had to make the decision to end our cheque service as a method of payment from 25 June 2021. We wanted to get in touch to let you know in plenty of time and to provide you with some information so that we can all be fully prepared.

We know that some of our Members may have concerns about adapting to alternative payment methods but we're here to help. We have a variety of safe, secure and convenient payment options available and we want to support you through this change.
What's changing?
19 March 2021 - The last day that SBS issued bank cheques in branch.

26 March 2021 - The last day that Members were able to order new personal cheque books.
25 June 2021 - The last day that SBS will accept cheques from other banks and that other banks will accept SBS cheques.
We're here to support you through this change and to ensure you feel confident to use alternative payment methods that you may never have used before.
There is also a series of "How to" guides and online videos to help you navigate through different aspects of our online banking services. Copies of our "How to" guides are available on our website here or printed versions are available throughout our branches.

Helping in the Community.
Mufti day raises funds for Relay For Life.
Our SBS Bank Southland Teams held a special mufti day to raise funds for the Relay For Life, with the National Events due to start in Invercargill at the end of February. Unfortunately the Southland event ended up being cancelled due to Covid 19, but the team were still happy to have the opportunity to support the Cancer Society through their fundraising efforts.
The Relay For Life is an annual event designed to raise awareness and funds for the Cancer Society, with donations going towards support services, health promotion programmes, and Cancer research. Many of us have been affected by Cancer in some way, and these events are a way to give back and make a difference.
If you would like to find out more about the Relay For Life, or to get involved in your local walk, visit their website here.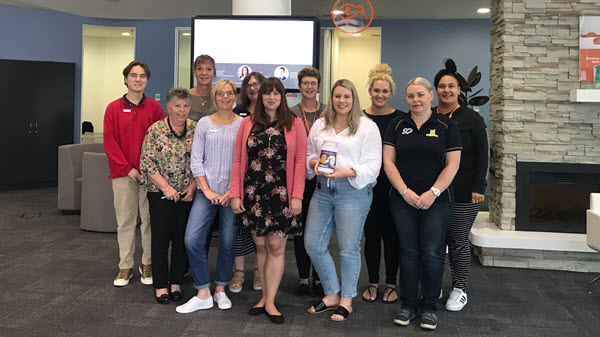 Pictured: SBS Bank Invercargill Branch Staff in their mufti gear, raising funds for the Relay For Life.

Tax Certificate Changes.
Accessing your 1 April 20 - 31 March 21 Tax Certificates.
Your annual tax certificate will be available again online through SBS Internet Banking by mid-April 2021. This year we will only be posting certificates to:
Non-resident customers.
Resident customers who have not supplied SBS Bank with their IRD number, and have received more than $50 interest during the year.
If you aren't already signed up for Internet Banking, and would like to learn more about banking online, click here to visit our website or give our helpful Contact Centre team a call on 0800 727 2265.
If needed you will still be able to request a copy of your Tax Certificate by calling our Contact Centre or by visiting one of our branches.

SBS Valentine's Day Competition.
Lucky winner takes home $500 Prezzy Card.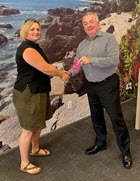 Pictured: Valentine's Day Competition winner Andrea Hoyle receiving her prize from SBS Bank Tauranga Branch Manager Mark Duhig.
At the beginning of February we launched our annual Valentine's Day Facebook Competition, with a $500 Prezzy Card up for grabs for one lucky winner!
To enter the draw users had to comment on the Facebook post and let us know how they would use the Prezzy card to share their love on a special day. There were lots of amazing entries and ideas, with the winner being drawn as Andrea Hoyle!
Andrea was very excited to collect her prize (on none other than her birthday!) and was looking forward to treating her children to a day out fishing, and taking her friends out for a special celebratory dinner.
Congratulations to the winner, and a big thank you to everyone who shared stories about their loved ones with us. For more great events, competitions, and posts make sure to like the SBS Bank Facebook page.

Click here to Unsubscribe.
SBS Bank, PO Box 835, Invercargill 9840. Copyright 2021 SBS Bank. All Rights Reserved.
SECURITY NOTICE: We will never ask for your internet banking login, password details, security details or any other security details via email. We will never ask you to log into your Personal Internet Banking services via a link in an email. If you are concerned that an email from SBS Bank is not genuine, please call us on 0800 727 2265 or forward it to phishing@sbsbank.co.nz.