Dear Member// Welcome to this latest edition of The Juice – our regular way of staying in touch with you, our Members. We want to share some of the things we've been up to and let you know what will be coming up.
Message from the CEO.
A Year of Purposeful Delivery.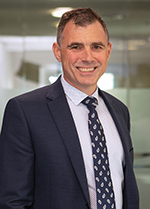 It's been a busy time here at SBS over the past few months while we have been working on a number to initiatives that will enhance our product and service offerings and make banking with SBS even easier. This has included the launch of our new TD Maintain function within our internet banking platform. This means that you can now manage your own Term Investments at a time that suits you. We have also updated our website with a variety of helpful "How to" online banking guides and videos to support our Members through the industry-wide removal of cheque services and assist new digital users.

We also welcomed Joe O'Connell to the position of SBS Bank Chairman and farewelled John Ward who has been Chair for the past 9 years. Joe has been an SBS Board member since 2017, so already has a very thorough understanding of the business.

And finally, I'm excited to announce the launch of our new FirstHome Combo, designed specifically to help first home buyers into their first homes. Home ownership was a key foundation stone that SBS was established upon 152 years ago and is core to our purpose as an organisation. We look forward to helping make the dream of home ownership a reality.

It has been great to meet and hear from many of you over my 5 years in the role. One of the areas that makes us special is that we're "not too big to care" and I welcome your feedback or questions directly (CEO@sbsbank.co.nz).
Shaun Drylie
SBS Bank Group CEO
Something Big Is Here...
Your First Home with All the Perks.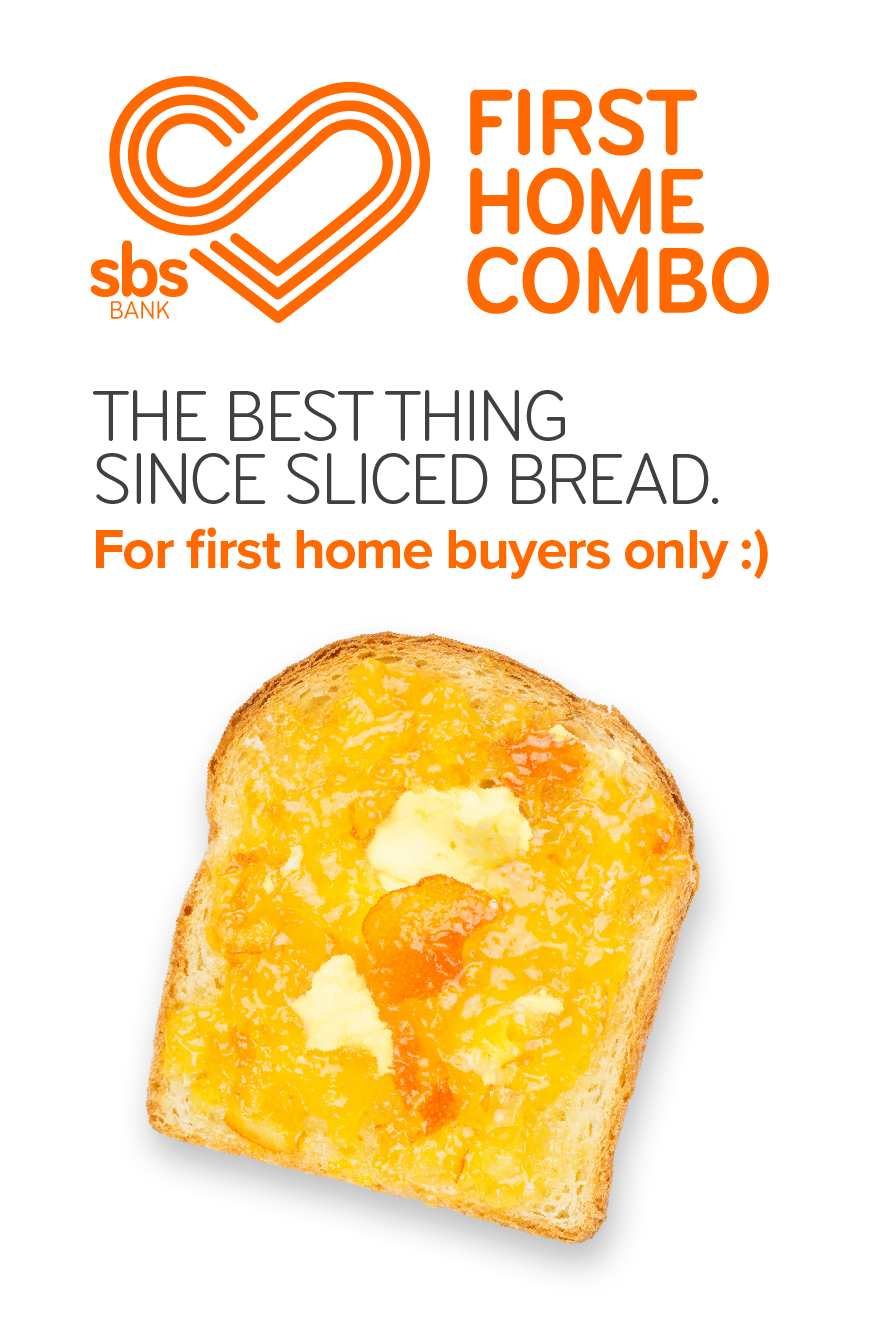 As the bank for first home buyers we know that having a great deal from your bank can make all the difference. That's why we've put together a FirstHome Combo that any first home buyer would love to snack on. This Combo will be available very now to first home buyers that purchase their home with SBS.

Sink your teeth into a highly competitive interest rate, a cash boost, a contribution to your House and Contents insurance with SBS Insurance, 24 months interest free on an SBS Visa Credit Card, a top up on your KiwiSaver, and a bank that's on your team!

To make the home buying process even easier, we've also put together our very own First Home Buyers Hub, with all the help and resources you need to get into your first home.

Whether you're looking for a step-by-step guide on the homebuying process, a timeline of what you should do when, advice from the experts, or just want your questions answered, SBS is here to help. Avoid the confusion and check out the SBS First Home Buyer's hub here.
First Home Loan and Residential lending and eligibility criteria, minimum equity, terms and conditions and credit fees and charges apply, including a 1% HNZC premium fee for First Home Loans. Further information on our credit fees and charges are available at sbsbank.co.nz or on request from any branch of SBS Bank.
*The issuer of the Lifestages KiwiSaver Scheme is Funds Administration New Zealand Limited (FANZ). The PDS for the Scheme is available at lifestages.co.nz
**Lending and Eligibility Criteria, SBS Visa Credit Card Conditions of Use and fees and charges apply. The prevailing purchase interest rate will apply to any outstanding balance on expiry of the 24 months interest free term. 24 months interest free is applied to a single transfer between $250 and $2000 from your card account. $5000 minimum Credit limit applies. Minimum monthly repayments must be made during the 24 month interest free term.
First Home Loan lending and eligibility criteria, terms and conditions and credit fees and charges apply. FirstHome Combo T&C's also apply.
For further information visit sbsbank.co.nz

SBS Bank Annual Report and AGM.
Access the 152nd Annual Report on our website.
The 152nd Annual Report for Southland Building Society (SBS Bank), including the Disclosure Statement and Annual Financial Statements (the Annual Report), is now available and can be accessed on our website here.

All Annual Reports will be available in this way going forward as we believe this is a more sustainable approach to deliver this information to you. If you would like to receive a hardcopy of our Annual Report, please request a free mailed copy at any time by contacting us on 0800 727 2265.

Thank you to all Members who were able to attend the SBS Bank Annual General Meeting in Invercargill on July 27th. It was a successful meeting due to your continued loyalty and support, and we appreciated having so many Members to welcome in our new Chairman, Joe O'Connell.

The Changing of The Guard.
A Warm Welcome to our new SBS Bank Chairman.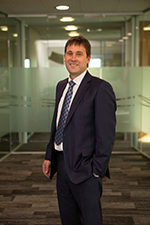 We are delighted to introduce you to our new SBS Bank Chairman, Joe O'Connell. Joe has been a member of the SBS Bank Board of Directors since 2017 and was formally elected as Chairman at the SBS Bank Annual General Meeting on July 27th.

A Fellow of the Institute of Chartered Accountants and a Member of the Institute of Directors, Joe is an experienced director with a financial background that spans many industries including transportation, concrete, timber processing, commercial property, fuel and electrical distribution networks.

Joe was Invercargill Airport chairman (2011-2016), overseeing the redevelopment of all land-side and terminal facilities as well as negotiating commercial terms for the company to secure its long-term viability.

He spent six years as general manager of The Richardson Group and is currently focused on directorships and management consulting with a large amount of time being spent with the K G Richardson group of companies.

Joe currently sits on several boards, including Electricity Invercargill, PowerNet and Southfuels.

We wish Joe all the best in his new role.

The SBS Annual Sustainability Report.
Our Commitment to our Communities and Members.
At SBS we're committed to working towards our sustainability vision "To make an authentic sustainable impact for our people, Members and the community we operate in."

To help hold us accountable to our goal, we release an Annual Sustainability Report each year which provides an overview of our key focus areas, themes, and highlights for the year.

We are proud to be on track with our sustainability vision and objectives and have now published our Sustainability Report for the 2021-2022 financial year. This is available to view on our website here.

The SBS Visa Credit Cards
Two rewarding Credit Cards to choose from.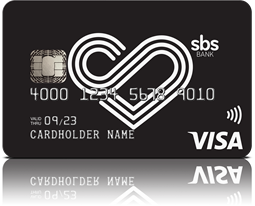 SBS Visa Credit Card.*
Our Award-Winning Credit Card.**
We're celebrating...the SBS Visa Credit Card has been awarded 5 Stars for 'Outstanding Value' by Canstar for the second consecutive year!
Whatever the occasion, wherever you want to shop, the SBS Visa Credit Card aims to make life even easier for you. Shop in-store or online, anywhere that Visa is accepted to earn cash back. It's as simple as that.
You'll earn $1 for every $150 spent on Eligible Transactions+ while enjoying the benefits of no annual card fee and 24/7 access to your account.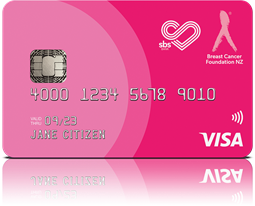 SBS Pink Ribbon Visa.***
Our Official Charity Credit Card.
SBS is excited to offer the all new SBS Pink Ribbon Visa in support of Breast Cancer Foundation NZ. This credit card is specially designed to raise funds to fight Breast Cancer, with SBS donating $20 to Breast Cancer Foundation NZ for every account successfully opened, and a further 5 cent donation by SBS every time the credit card is used.
You will also earn Cash Back Rewards every time you use your card on Eligible Transactions+, which you can choose to keep or donate a portion of (or all of it!) to Breast Cancer Foundation NZ. Together, we can make a difference.
*Lending and eligibility criteria, SBS Visa Credit Card Conditions of Use and Fees and Charges apply.
**Canstar 5 Star rating for 'Outstanding Value' in the Credit Card rewards 12k annual spend category.
***Lending and eligibility criteria, SBS Pink Ribbon Visa Conditions of Use and Fees and Charges apply. $55 Annual fee and $55 Establishment fee applies per Account. The Pink Ribbon Symbol is a trademark of BCFNZ.
+See SBS Visa Credit Card Conditions of Use or SBS Pink Ribbon Visa Conditions for Eligible Transactions. Credit Card Conditions of Use along with Fees and Charges are available at sbsbank.co.nz/credit-card or on request and free of charge from your local SBS Branch.

Stronger Together.
Cover all Your Financial Needs with The SBS Group.
Did you know that SBS Bank has a number of subsidiaries which together make up the SBS Group? From personal loans, to wealth management, personal insurance and KiwiSaver, the SBS Group is committed to providing a large range of specialised financial services to you, our Members. For more on how we can help you with all your financial needs, check out the information below.
Finance Now
You never know when you might need a helping hand to get something you really want. It might be a new car, a fabulous holiday, new furniture, home renovations, or the ability to consolidate your bills into one convenient loan.

No matter what the occasion Finance Now can help, with payments to suit your pocket. With both secured and unsecured personal loans available you have the flexibility to choose the option that best suits you. Anything's possible with a personal loan.
Finance Now has helped over 530,000 Kiwis with their finance needs, as well as providing finance facilities to over 1,500 retail stores, Business Finance retailers and over 400 Motor Vehicle dealers.
To find out more about Personal Loans with Finance Now, or to get a no obligation free quote, give the team a call on 0800 299 399 or visit their website here.
SBS Insurance
Did you know that SBS Insurance offers house, contents, and car insurance as well as a range of competitive personal insurance including life and income protection?

The SBS Insurance team can talk to you about all the options available so you can get on with life. They'll make sure you have the cover you need to look after the people and things you love; so kick those life worries into touch and replace them with peace of mind with everyday insurance that's designed for Kiwis.
Give the friendly team at SBS Insurance a call on 0800 002 002, email them at advisers@sbsinsurance.co.nz or visit their website here to find out more or to get a free quote.
Funds Administration New Zealand (FANZ)
FANZ is a goals-based financial advice provider and fund manager that has been helping Kiwis meet their long-term financial goals for nearly two decades.
FANZ manages over $1.4 billion for more than 20,000 New Zealanders through providing Private Wealth services, the Lifestages KiwiSaver Scheme and the Lifestages Investment Funds.
If you are looking for a KiwiSaver scheme that works for you, or have some extra money you'd like to consider investing, find out how FANZ Private Wealth can help you reach your goals by sending them an email at fanzadvice@sbsbank.co.nz or phone the team on 0800 727 2265.

Introducing Term Deposits Online.
Manage Your Term Deposits with SBS Internet Banking.
Did you know that you can now manage your term investments online through SBS Internet Banking? This includes choosing where your interest is paid and how you would like to reinvest when your term investment matures.

This update is designed to help make your life even easier, with the flexibility to manage your investments 24 hours a day, 7 days a week from the comfort of your own home.

If you're interested in finding out more, we have shared some great information and FAQs on our website here.

If you aren't already signed up for Internet Banking, and would like to learn more about banking online, click here to visit our website or give our helpful Contact Centre team a call on 0800 727 2265.

SBS Pink Ribbon Breakfasts.
SBS Team Members Come Together for Good.
As a proud partner of Breast Cancer Foundation NZ, and the home of the SBS Pink Ribbon Visa, SBS teams throughout the country decided to "come together for good" and join thousands of other Kiwis in hosting their own Pink Ribbon Breakfasts.
The Pink Ribbon Breakfast is an annual fundraiser for Breast Cancer Foundation NZ with donations helping to fund ground-breaking work by some of our country's top breast cancer researchers, educate people about breast health, and provide free support services for breast cancer patients.
Team members enjoyed a range of delicious treats to kick-start their mornings, with some branches holding special pink ribbon raffles to help raise extra funds. If you would like to find out more about Breast Cancer Foundation NZ, or are wondering how you can help support this worthy cause, visit their website here.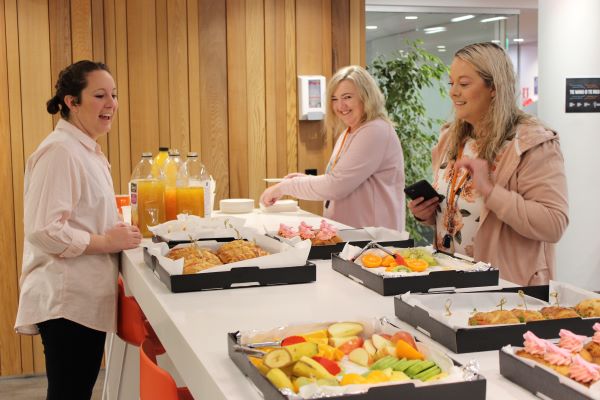 Pictured: SBS Bank Invercargill Head Office Staff enjoying the 2021 Pink Ribbon Breakfast.

Click here to Unsubscribe.
SBS Bank, PO Box 835, Invercargill 9840. Copyright 2022 SBS Bank. All Rights Reserved.
SECURITY NOTICE: We will never ask for your internet banking login, password details, security details or any other security details via email. We will never ask you to log into your Personal Internet Banking services via a link in an email. If you are concerned that an email from SBS Bank is not genuine, please call us on 0800 727 2265 or forward it to phishing@sbsbank.co.nz.