Dear Member// Welcome to this latest edition of The Juice – our regular way of staying in touch with you, our Members. We want to share some of the things we've been up to and let you know what will be coming up.

Message from the CEO.
Investing in creating the best Member experience.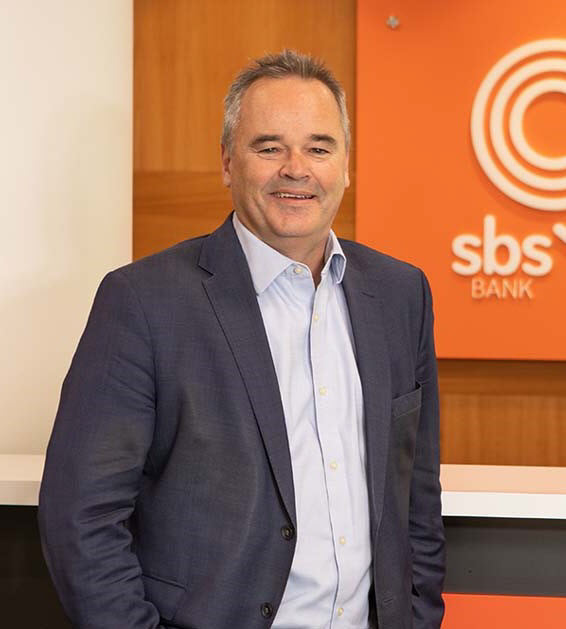 I wanted to start by letting our Hawke's Bay Members know that our thoughts are with them during this extremely difficult time and that we are here to support them. Cyclone Gabrielle presented the region with some unprecedented challenges and I know our Hawke's Bay branch manager Grant Brodie and his team have been working closely with our Members to assist them in any way we can.

The SBS Bank team have continued to work on a number of new initiatives to ensure that we continue to provide the very best service and product features available. This has included further enhancements to our digital home loan application process which gives our Members the flexibility to apply for a home loan at a time and place that best suits them.
We have also continued to support both our investors and borrowers with market leading interest rates such as the recent 6.00% for 12 months term deposit rate and our SBS FirstHome Combo for first home buyers – we have really enjoyed hearing their excited stories of getting the keys to their very first home.

New Zealand Golf Open 2023.
Celebrating the amazing contribution of our volunteers.
We were proud to be an official sponsor of the New Zealand Open again in 2023, with this year's event kicking off in Arrowtown at the start of the month. One of the best parts about sponsoring the New Zealand Open is our support for the 465 incredible volunteers from around New Zealand who form the SBS Bank Volunteer team. Every one of the volunteers give their time and effort into making the event a fantastic experience for everyone.

To help thank this year's group of volunteers for their hard work, we held a special SBS Bank Volunteer BBQ on the first night of the Open. Congratulations to Wilfred Yeo of Christchurch who was drawn by SBS Bank CEO Mark McLean as the winner of an SBS Prize Pack and a place in next year's New Zealand Open Pro-Am event!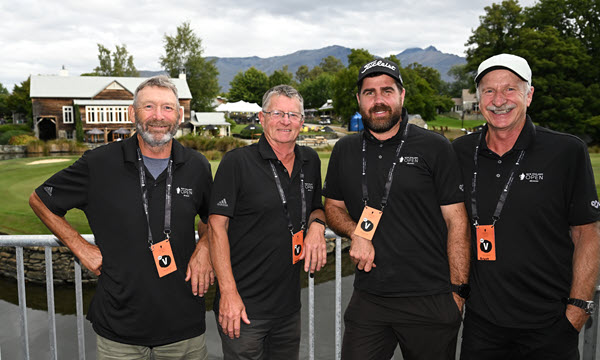 A group of SBS Bank NZ Golf Open volunteers enjoys the SBS Bank Volunteer BBQ at Millbrook Resort. Credit photosport.nz
The SBS Visa Credit Card.
Canstar award winner three years running!
The SBS Visa Credit Card was awarded 5 Stars for 'Outstanding Value' by Canstar for the third consecutive year in 2022!*

Whatever the occasion, wherever you want to shop, the SBS Visa Credit Card aims to make life even easier for you. Shop in-store or online, anywhere that Visa is accepted to earn cash back. It's as simple as that.

You'll earn $1 for every $150 spent on Eligible Transactions** while enjoying the benefits of no annual card fee and 24/7 access to your account..
Benefits
| | |
| --- | --- |
| | No Annual Card Fee |
| | Earn Cash Back Rewards** |
| | Up to 55 Days Interest Free |
| | |
| --- | --- |
| | No Rewards Fee |
| | Contactless Payments |
| | 24/7 Access to Your Account |
The Highlanders have arrived in Southland!
Get stuck-in to the build up to the big game.
We're excited to have brought the Highlanders to Invercargill for a Super Rugby competition game this weekend! This special match will see the Highlanders face off against the Force on Sunday, with the game kicking off at 3:35pm at Rugby Park.
When the Highlanders take their half-time break during Sunday's match, one SBS Bank first home buyer will also have the chance to win a discounted interest rate on their first home loan. The 'Great Rate Roar Down' will invite the crowd to show support for first home buyers simply by the volume of noise they can make. The louder fans cheer the lower the buyer's one-year fixed-rate home loan will be on the SBS FirstHome Combo.
To celebrate, we have an action-packed build up to the big game. If you're based in Southland, or have travelled down for the game this weekend, make sure you get the following events in your calendar so you don't miss out!
Meet the Highlanders

Come and meet some of the players at our SBS Invercargill branch this afternoon.

Friday 17 March

4:30pm – 5:30pm

SBS Invercargill Branch




Everyone is welcome, so bring the family, get your shirts signed and score yourself some free merch!
SBS Bank Captain's Run

Watch the Highlanders Captain's Run as they prepare for the game day on Sunday.


Saturday 18 March

2:30pm – 3:30pm

Rugby Park, Invercargill




This event is open exclusively to SBS Bank Members - just come along on the day, no need to register.

Exciting changes to New Zealand's payment system.
Making the move to processing payments 365 days.
You may have heard that a big change is coming to the way payments are processed in New Zealand.
Payments New Zealand, the organisation responsible for the governance of New Zealand's payments system, has announced that from 26 May 2023 domestic electronic transfers will move from business day to everyday processing.
This means that from this date you will be able to move money between New Zealand based banks 365 days per year, including weekends and public holidays.
These changes also mean that both direct debits and automatic payments will now be processed 7 days per week. To prepare for this, it is important to know when your direct debits will be withdrawn to ensure you have sufficient funds to cover any payments that may come out on weekends moving forward.
Supporting our communities.
Spending a 'day in the life' of a financial mentor.
SBS Bank CEO Mark McLean recently spent the morning in Roxburgh, Otago, with the Central Otago Budget Services experiencing a 'day in the life' of a financial mentor.
'Day in the life' is an initiative through FinCap's partnership with the New Zealand Banker's Association (NZBA), where bank CEOs have an opportunity to see the financial challenges that whānau are facing in our communities and consider what these insights show banks can do to assist.
The member banks of the NZBA provide $5 million over five years to fund initiatives, including a 'day in the life', that support financial mentoring for people in need.
Mark sat in on a meeting with one family who were struggling with the increased cost of living issues and other financial challenges associated with debt. It was clear that advisory services like the Central Otago Budget Services and banks have a very important role to play through the provision of good advice to assist customers with these challenges.

A special thank you to Pam and Jo for the opportunity. Keep up the great work!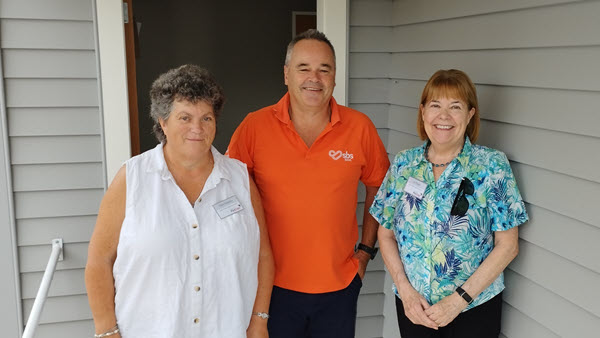 SBS Bank CEO Mark McLean (centre) meets with Pam Hughes (left) and Jo Ellison (right) from Central Otago Budget Services.
The SBS Bank first home buyer's tools.
Getting you into your first home together.
If you're thinking about buying your first home, or know someone who is, take a look at the SBS Bank First Home Buyer's Hub - a place we've created especially for first home buyers with all the help and resources you need to get into your first home.

Whether you're looking for a step-by-step guide on the home buying process, a timeline of what you should do when, help from the experts, or just want to have your questions answered, the SBS Bank team can help.
For those further along in their first home journey, we have also created SBS Skip, a special online app that will let you know how much you may be able to borrow, help you track your progress towards your goal, and allow you to earn up to $2,500 cash towards your first home deposit when you take out an SBS Home Loan.†

So what are you waiting for? Take the first step towards buying your first home with the New Zealand bank with heart and we'll be cheering you on from start to finish.
The SBS Visa Credit Card is issued by SBS Money Limited, a 100% Subsidiary of SBS Bank. SBS Visa Credit Card Conditions of Use and Fees and Charges apply, are subject to change and can be found here or alternatively are available on request and free of charge from any branch of SBS Bank.
*Canstar have awarded SBS Visa Credit Card with a 5* rating for 'Outstanding Value' in the rewards $12k annual spend category.
**See SBS Visa Credit Card Conditions of Use for Eligible Transactions.
Click here to Unsubscribe.
SBS Bank, PO Box 835, Invercargill 9840. Copyright 2023 SBS Bank. All Rights Reserved.
SECURITY NOTICE: We will never ask for your internet banking login, password details, security details or any other security details via email. We will never ask you to log into your Personal Internet Banking services via a link in an email. If you are concerned that an email from SBS Bank is not genuine, please call us on 0800 727 2265 or forward it to phishing@sbsbank.co.nz.